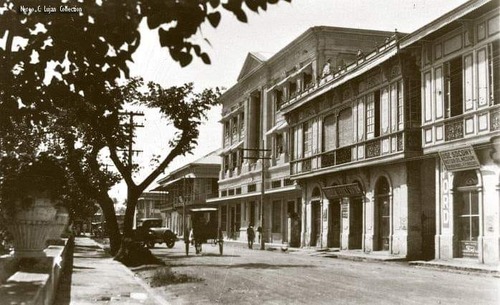 The Masonic Temple on J. M. Basa Street facing the Plaza Libertad in Iloilo City was completed in 1928.
It was built under the leadership of WB Thomas N. Powell, a prominent Iloilo-based American lawyer and a mason.
It serves as the headquarters of the Iloilo-Acacia Lodge No. 11 which was chartered on 13 February 1917 after it was formed a year earlier.
Before it was built, masons in Iloilo met at a building in Rizal Street, according to the book "Historical Landmarks and Monuments in Iloilo (1999)."
Its first officers were Amor Dorr Haskell (Worshipful Master), Henry Francis Schudt (Senior Warden), Felipe Gomez (Treasurer) and Eriberto Gonzales (Secretary).
Other pioneers include Marcelino Monfort, Rafael Santos, Guidalia S. Assayas, Archibald Stevens, James Kerr, Eusebio R. De Luzurriaga and Antonio Horilleno.
As the organization grew, the lodge's Rizal office could no longer accommodate its members, so efforts were made to construct a new building.
"Papers of the Association were filed and registered with the then Bureau of Commerce and Industry on April 9, 2013 and shares were sold to Lodge members," the book said.
Powell, who later became a Colonel in the United States Armed Forces in the Far East (USAFFE) and a Bataan Death March survivor, laid the cornerstone of the building.
The book describes it as "a building of Greek columns, classic windows, iron sheets and concrete furnishings."
During World War II, the Masonic Temple was made the headquarters of the Japanese Imperial Army after the invaders looted it, burning important Masonic documents.
It survived the bombing of Iloilo City during the retaking of Panay by US forces in 1945 and was declared a National Historical Landmark on February 9, 2018.
credits to: Nereo Cajilig LujánProvince of Iloilo
For more Mason Tshirts order here at https://masontshirts.threadless.com/